Smalltalk MT 4.0
System Requirements
| | | |
| --- | --- | --- |
| Operating System | Build / Service Pack | Comments |
| Windows 95 OSR2* | OSR2 1111 (MS IE 4.0) | Development not officially supported. Requires a special version of the runtime Dll (without fiber support). |
| Windows 98 SE* | | Requires Internet Explorer 4 or later |
| Windows Me | | |
| Windows NT 4.0* | Service Pack 3 or later | Requires Internet Explorer 4 or later |
| Windows 2000 | (2195) | Installing on Microsoft Windows 2000 and XP |
| Windows XP | | Installing on Microsoft Windows 2000 and XP |
(*) If Microsoft Internet Explorer 4.0 or later is installed on your system, you should have the correct versions of all DLLs required by Smalltalk MT.
Microsoft Installer
Setup uses Microsoft Installer version 1.1 or later. On Windows NT, Windows 95 and Windows 98, you may have to install the Microsoft Installer. You can download a version from:
http://www.objectconnect.com/installer/Win9x/InstMsi.exe for Windows 95/98
http://www.objectconnect.com/installer/WinNT/InstMsi.exe for Windows NT (Service Pack 3 or later)
Windows 2000 / XP is specifically supported by image property settings. The standard image will run and compile correctly on Windows 2000 / XP, yet enabling NT 5 support will solve a couple of cosmetic issues and make the image run more efficiently.
The first time the image is started and it detects NT 5 or above, a dialogs prompts if you wish to upgrade the image for NT 5 support. Click Yes to perform the conversion automatically.
To manually enable NT 5 support, click on Image Properties, select the Settings tab, and set Windows NT Version to 0x0500. Save (compress) the image. You can disable NT 5 support later at any time by following the same procedure.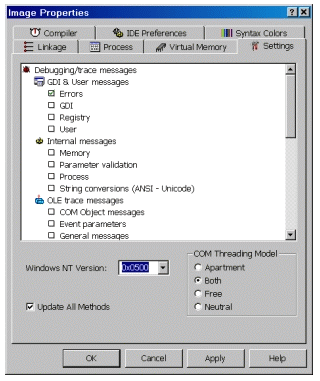 Reasons for not enabling NT 5 support
To a large extent, the development image defines the runtime environment of executables built with the image. An executable built with NT 5 support may require NT 5 to run (depending on the features it uses). If you target previous versions of Windows you may want to disable NT 5 support.
Installing on Microsoft Windows 95 OSR2
Although not officially supported, you can run Smalltalk MT 3.0 on a Windows 95 OSR2 (not the original Windows 95) that has been updated with Internet Explorer 4.x or later. The build version of the operating system should show 1111 or greater.
| | |
| --- | --- |
| | If your distribution comes with a development image for Windows 95, you can copy it over the existing files. |
| | Otherwise, you have to build an image for Windows 95 using another operating system: |
Install Smalltalk MT using Install on both machines
On the non-Windows 95 (and therefore functional) machine, install win95.sm and save the image (it will be compressed).
Move the new image (stimage2.exe and sources2.bin) to the Windows 95 installation and start the image normally