Icon Finder
This is a listing of common Windows icons. Add the number from the horizontal and vertical axis to get the Icon Index.
There are many other files with icons in them, these are just the majority. The file c:\windows\moreicons.dll (not shown here) has over 100 icons in it. Most of these are for old Dos programs and aren't relevant these days.
To save this file in IE5 use File - Save As then in the drop down box Save As Type choose Web Archive, Single File. For other browsers you'll need to save as a web page and get the following images from the Temporary Internet Files cache (or Netscape's equivelent folder) and place them in a folder called images under the folder where you stored the HTML file.
shell32.png progman.png cool.png
pifmgr.png inetcpl.png mmsys.png
mshtml.png ie4.png sysdm.png
main.png explorer.png sticpl.png
desk.png joy.png power.png 
Windows\System\Shell32.dll

Windows\Progman.exe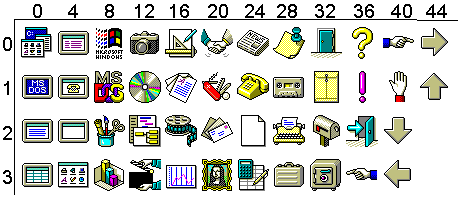 Windows\System\Cool.dll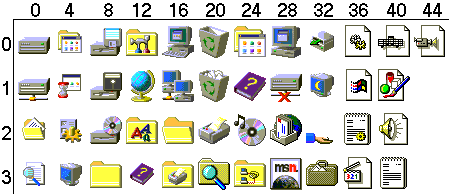 Windows\System\Pifmgr.dll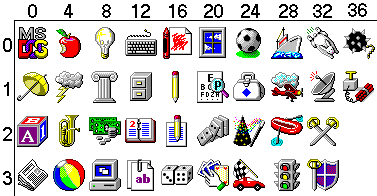 Windows\System\Inetcpl.cpl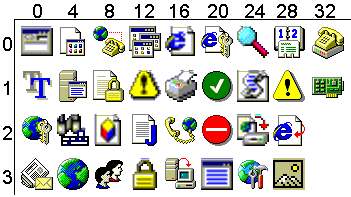 Windows\System\Mmsys.cpl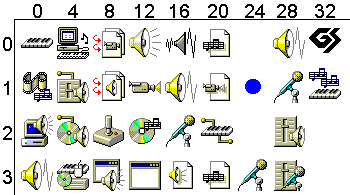 Windows\System\Mshtml.dll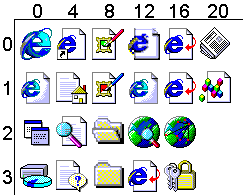 Program Files\Internet Explorer\Iexplore.exe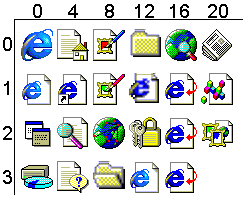 Windows\System\Sysdm.cpl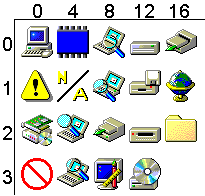 Windows\System\Main.cpl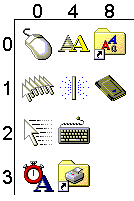 Windows\Explorer.exe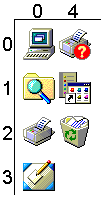 Windows\System\Sticpl.cpl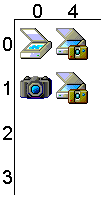 Windows\System\Desk.cpl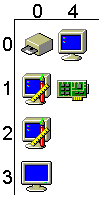 Windows\System\Joy.cpl

Windows\System\Power.cpl